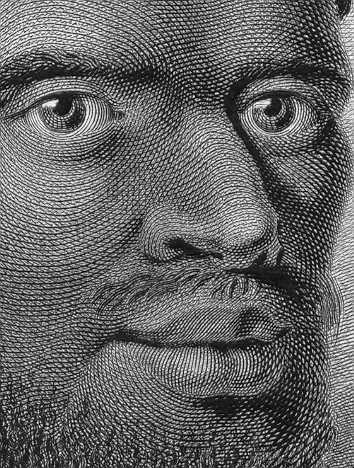 MacRieth's Folk History Collection: Chapter 2, Fishermen's Yarns. XIV: recorded at The Feathers, Gorleston, 2nd December 1865.
The time I saw him? Aye. It was only the once.
Jolly nuisance, he was, that ManOnBoard. If you put anything down that wasn't tied down or nailed down, he would have it. You soon learned that one, on the sea. He had half the salt pork out of the barrel in '12, just because I was galley-boy that trip, and I forgot to seal it. He had a good feed from every codboat out of Barking. He must be as fat as an emperor by now, they used to say. It was a wonder he could squeeze through the hatches to filch, and a wonder that no grown man had seen him yet: only ships' boys with good appetites.
Over Iceland's shelf, we were, in '22. Good breeze, pressed down. That was Prosperous, our first codboat. Steady, she was. Only fifty foot overall without the boom - but with it, that was another ten foot. She could really fly with that sail. Went easy, too.
Waters bright emerald – off the normal grounds we were, but no new pits yet. Lines were all in but not much on them. Harry and Jim were pricking – tied on, they were, to stop them sliding, though they were still mucking about. I told them I'd use the lines to hang them in the well, like the halibut. Your boats are all dry, nowadays, what with the newfangled ice and whatnot, but then we had to keep the prime stuff live – and the flatties would block the augur-holes and stop the well refreshing itself. So we tied them by the tails and there they dangled till Billingsgate, with swim-bladders pricked to stop them floating.
Jim had this idea that flatties could fly. That was how he saw the ManOnBoard that time before in '18. When Jim threw, he darn near threw himself. I saw him go over the leeward side. I saw him. Couldn't swim, of course. We were trawling, that time: dead slow; tiller roped. But by the time I started towards the place where he'd fallen, to throw a line to him, there he was, right as rain, on the windward side – and dry: bare feet and all.
"However did you do that?"
"ManOnBoard."
Normally, these lads are japing. They're always japing. But this time not. I saw him go.
"Harry – come up on deck. Listen to this," I said. "Jim, tell me. How?"
"You blinked, Skip. He lifted me – over the gaff. Don't look like that. He can't have keel-hauled me, can he – I'm dry. Look"
He stared at his empty hands.
"He took the halibut."
Well, he was alive, for all the japing. There was still some of Jake's old privateer brandy left in those days, and we celebrated that night. As good a reason as any.
"What did he look like then, Jim? Was he a fine figure of a man?"
"My God, aye," said Jim. He had this smile. He was like that, Jim was . . .
Oh, aye, the Iceland trip. And when I saw him. Aye.
Well it was as odd as Jim's story. Harry called out, "Squall ahead," and there was a wall of green water. Came up suddenly. Hardly time to steady her up and get her nose into it. A hundred feet high, that wave, like green glass with fish swimming in it. We hung on and went through. Not over - through. Didn't take a second. Felt like a rain-shower. Strange. Prosperous steady as a rock. On the other side was a great storm, or so it seemed at first sight.
Birds, it was. Hundreds and thousands of sea birds: all kinds. Ship quickly covered in them. Air thick with them. Crying, diving, swooping, splashing. Albatross on the tiller, stuffing itself. Gannets and bonxies dropping fish everywhere and scrapping for them. Water dark and clear: a pit in the middle of nowhere. A gold mine. Lines out and working till dusk: quick in case the drifters spotted it and pushed in. No more room in the well for more, after half a day's work.
But in all that grabbing and taking, I did pause for one minute to thank the powers that be. And as I turned in all that melee, just for one second I saw him, sitting on the counterstern like a man watching a show, eating our salt pork and half-smiling. He was not as I expected. He was dark, bearded and lean. And such a face: eyes like a woman's. He looked at me. I blinked. He was gone. That was what Jim had said, wasn't it.
"You blinked, Skip."
Copyright © 2003 LS
THIS ITEM TO BE AUCTIONED IN My Ebay Shop IN OCTOBER 2003