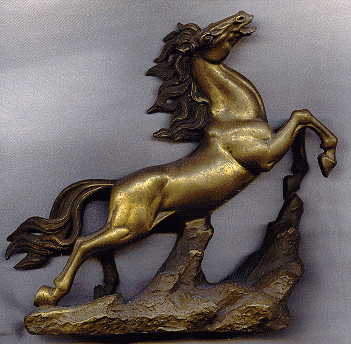 Marianne was a horse. She galloped across the sofa leaving muddy hoof-marks, banging Mum's best cups together fast for extra speed. Auntie's new nylon fur coat kept falling off, so the horse picked it up and put the flying mane back on its head. The horse neighed a lot when Dad picked it up under his arm and put it back in its stable.
Marianne was a rat running across the attic floor. The thing about rats is that you can hear them running. Bits of plaster fell off the bedroom ceiling onto Mum's bed. Dad dashed upstairs and put the rat back in its cage and talked to it loudly. Rats don't like being in cages.
Marianne was a cat. The cat pushed Granny out of her armchair and curled up asleep for one and a half seconds. It took Granny a long time to untangle the ball of wool that wound itself round the cat and the table-legs and Auntie's foot. Marianne laughed and Granny was patient, but Dad put the cat back in its basket.
Dad did not like pets.
Copyright © 1991 LS
THIS ITEM HAS BEEN SOLD. I MAY HAVE A SIMILAR ITEM TO BE AUCTIONED IN My Ebay Shop IN JANUARY OR FEBRUARY 2004