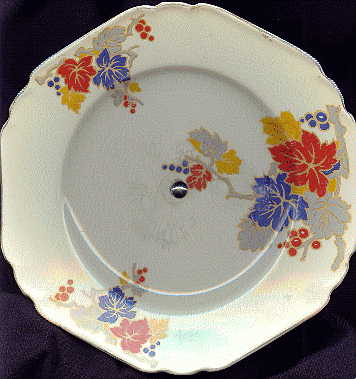 At the top of the pile of cakes on the tea table, there was a small bun with white icing and a sticky cherry. Little Andrew was watching that cake. Under that were about twelve square buns with coconut in them. The bowl of trifle was shining a lot because of the sun on the table, and the ice cream changed colour as it melted. Behind the buns, Mr Orton's white teeth smiled a lot; and when he laughed, his shoulders went up and down.
Next to his chair, Mr Orton's shadow had long, pointed teeth like a dog. When Mr Orton laughed, the shadow's hands opened and closed. Mr Orton was telling a joke. His eyes had blue stars in them, and Dad sat back in his chair, holding his stomach and giggling. The trifle bowl rattled and a coconut cake fell off the side of the pile.
Mr Orton's shadow had dark spots all over it. The teeth grew longer and the mouth opened wide.
Mr Orton took out his pen and wrote something on the back of a cigarette packet for Dad. Dad smiled and put it in his pocket. Andrew liked the pen. You could see the ink through it and it had a blue cap. When Mr Orton gave the pen to Andrew he leaned over, and Andrew could smell soap and Mr Orton's garden shed.
The shadow did not take out a pen. It took out a knife. It poked Andrew with it, then took the cake with the red cherry and ate it.
Copyright © 1991 LS
THIS ITEM TO BE AUCTIONED IN My Ebay Shop IN OCTOBER 2003