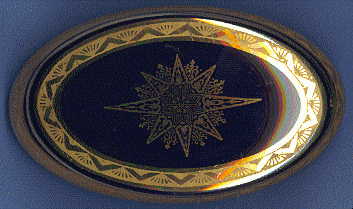 At the bottom of Ann's garden was a tangle of green plants that crept along the ground, climbed over each other and up each other, and reached for the sky.
If she crawled through the prickling stalks at the bottom, Ann could sniff the earth. She sometimes saw a mouse, and her knees and hands had dips in them where the bits of grit had pressed.
When she stood up and pushed through the trunks and wriggling, soft, green branches, and the wide, flat leaves that smelled of secrets, she found places with green light where everything grew and changed all the time, and she could hear the rustling and twittering of the blackbird's nest.
In the middle was a tree with a thick trunk, but the trunk was smooth and green, and still growing. It had a shining, new aluminium ladder leaning against it. It still had the pink shop label stuck to a rung, and the price tag dangling on a string.
Halfway up the ladder, Ann was above the greenery and she could see her friends playing street football. They had far-away, squeaking voices. She looked up and saw the sun.
Inside the sun was the warmest, safest place that Ann had ever been in. It was made of yellow fur, so soft she could hardly feel it. It was quiet. It felt like bed-time, when people stop looking at their watches. She curled up in the yellow fur and shut her eyes.
She didn't dream of anything: she wasn't asleep. She stretched out her arms and legs and the soft fur was everywhere she could reach. She opened her eyes and the fur had turned to yellow light and she was floating. When you float you don't feel pulled up and you don't feel pulled down. You balance. Ann giggled.
Copyright © 1991 LS
THIS ITEM TO BE AUCTIONED IN My Ebay Shop IN OCTOBER 2003