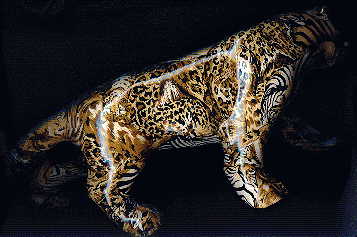 Miss Jones was a very kind teacher. She was pretty with a big smile, but she was shy. She liked the headmaster, Mr Tree. He was a very small man, very pale and thin, with not much hair. He wore a baseball cap back-to-front, and spent all his lunch hours in the computer room, playing games.
Mr Tree walked away quickly when Miss Jones came along, because she had a pet called Tiger. Tiger was a cuddly cub with huge paws and a big yawn, and she smelled of milk.
Tiger always wanted to sit on Mr Tree's lap when he was busy with his computer. Mr Tree would be cross and would go and hide. The children thought this was funny.
One day all the school was dark, and the computer didn't work. Workmen in green overalls came to mend the electricity. Mr Tree was very cold and very bored. He walked through all the gloomy classrooms and said hello to all the children and teachers. Then he sulked in his office with a cup of tea.
Tiger came into the office and sat in his lap. Tiger was lovely and warm and fluffy. "Well, just for today, then," said Tree.
Copyright © 1991 LS
THIS ITEM TO BE AUCTIONED IN My Ebay Shop IN OCTOBER 2003