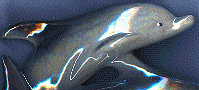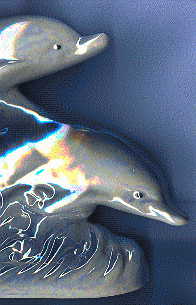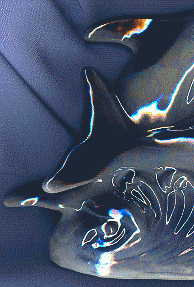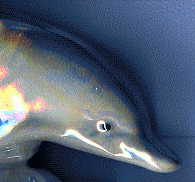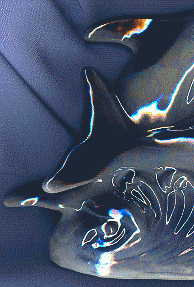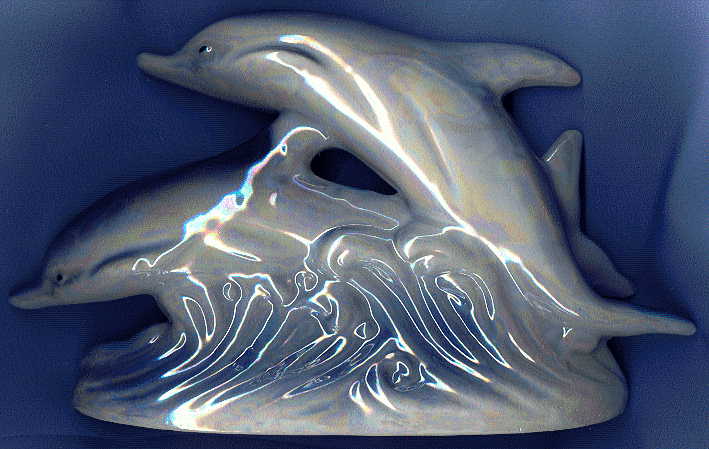 In the edge of the sea where it broke wetly on the gritty sand, were tumbling, glassy animals with white, ruffled hair. They dashed forward in a gang, piled up like acrobats on a motor-bike, then growled and fell down laughing, circling and running away. They would dash forward again: jumping, flying, smashing to pieces and falling back together, with a shriek and a roar.
Behind them marched rows of curled, grey dolphins, up on their tails, smiling with white eyes. They linked their fins like tiller girls, charging forward, row after row, growling and gnashing their jolly teeth.
At the place where the rows of dolphins smashed on the sand, there was a great battle, of biting and thrashing. Grey glass and white hair flew in the air, and there was roaring and crashing, pushing and pulling, and shouting and squealing.
Further out, great grey whales humped their backs and rolled, over and over again. They rolled right across the ocean to the beach, ducked under and swam back again. You never saw their heads: just their shining backs turning slowly.
Thomas moved his toes in the warm, brown sand, and hitched up his yellow, knitted trunks. When the glass animals ran away, he dashed onto their wet, cold patch. They couldn't catch him. He jumped on some of them: they tried to tickle him to death. It was cold and, running back on the hot sand, he hitched up the trunks again and jumped about a lot.
Thomas and the dolphins looked at each other. They were so smooth, bent over like that. They must feel cold and slippery, like a knife-blade. Where the dolphins broke and fought, Thomas's yellow trunks and toes thrashed around with the flying bits of dolphin and glass animals.
The laughing glass animals tossed him, rolling, three times towards the beach. The first time, he saw the blue sky tip on top of him, like an upside-down fruit bowl. The second time, he swished the sand with his nose and toes.
The third time he felt the warm, scratchy sand on his back, and round his legs, and he dreamed of where the whales went.
Copyright © 1991 LS
THIS ITEM TO BE AUCTIONED IN My Ebay Shop FROM SEPT 27 2003, 1800h BST, FOR 10 DAYS